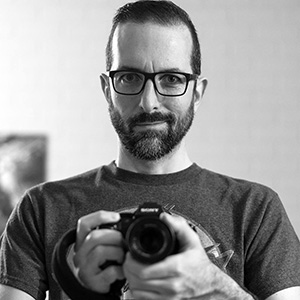 Over the last 11 years, I've explored the many aspects of photography as a medium: landscape, product and corporate photography, as well as macrophotography, among others… to eventually focus on event and alternative portrait photography, like boudoir and cosplay.
Since 2012, I have hosted and produced Objectif Numérique, a French-language podcast on photography. I discuss and present photography news with my co-hosts and guests, while also offering tips and tricks to photographers, both beginners and pros alike.
Having a soft spot for aesthetics and futurism, I've quickly developed a particular interest for clothing textures, with a focus on leather, latex and PVC. The contrast in materials, or with the decor (often white or minimalist), also play an important role in the composition of my images.
My current project aims at creating images with people from the alternative scene. Each image shows one or two persons, sometimes in a static pose (with or without accessories), sometimes in a more dynamic one (with entwined arms, for example).
While they are relatively anonymous, the scenes I create allow the spectator to delve into their own imagination, where everything is studied, minimalistic, and slick.
Having also developed a profound interest in electronic and industrial music over the last thirty years, I relish and take pride in capturing key moments during musical events or festivals.
Do not hesitate to contact me to get a quote, discuss how I can help you capture the moment or to purchase an image.
You can follow me on Facebook, Flickr, Instagram, LinkedIn and Twitter.